If you love spending time outdoors, you probably try to go on an adventure whenever the skies are clear and sunny.  You might enjoy hiking and biking along beautiful trails throughout the cooler months and exploring gardens and nature preserves in the spring.  In the summertime, you might spend a day on the lake, floating down a river, or picnic in a shady park.
No matter what time of year and which activities you love, there is plenty of outdoor adventure in Middle Georgia.  In this post, we will talk about ten regional outdoor destinations with beautiful scenery and fun recreational activities.  Grab your favorite adventure companion and get going!
10 Outdoor Adventures in Middle Georgia
1.  Float down the Ocmulgee River
For those hot summer days when you feel like relaxing, head to the Ocmulgee River for a day of easy paddling.  You can bring your watercraft or rent kayaks and canoes from Ocmulgee Outdoor Expeditions.  They offer various tours for different skill levels and experiences, including a special evening tour under a full moon.  On your trip, you can often spot wildlife as you wind through beautiful stretches of the forest.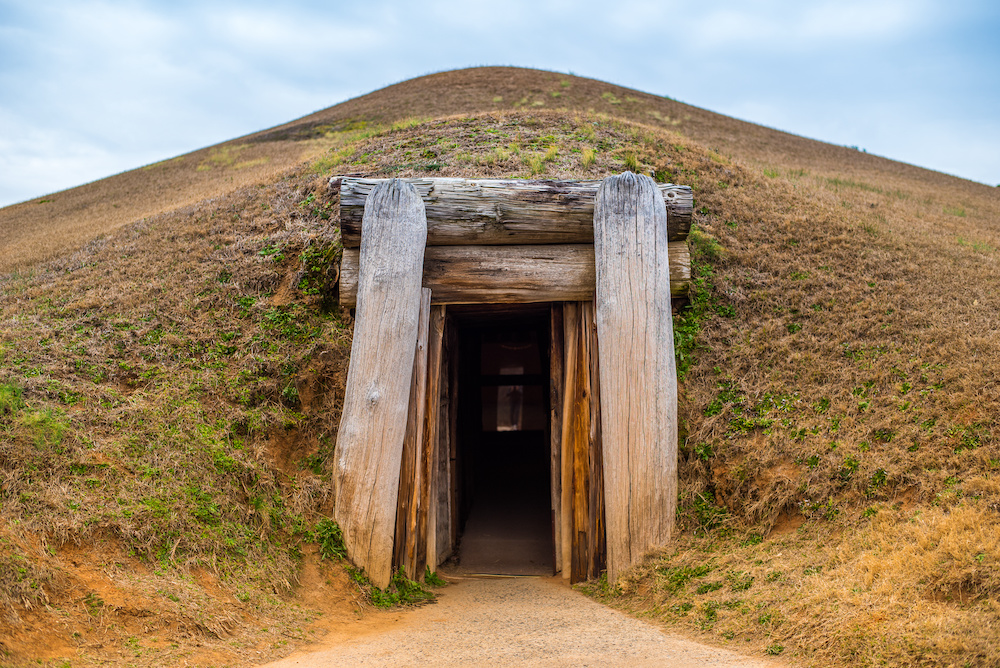 2.  Explore ancient history
If you love history, you will enjoy exploring the Ocmulgee Mounds National Historical Park, an incredible historic site in Macon.  The grounds have preserved traces of Native American culture and human history from over 17,000 years before European settlers ever came to the continent.  You can wander the paths to see various ceremonial mounds and the Great Temple Mound.
3.  Picnic at Carolyn Crayton Park
The oldest public park in Macon, Carolyn Crayton Park, is a picturesque location that hosts many festivals and events throughout the year.  It is perfect for spending the day eating under the picnic shelters and watching the kids enjoy the playground.  This park is also the heart of the annual blooming Cherry Blossoms in the spring.
4.  Stroll through gardens
One of our favorite outdoor activities in Middle Georgia is visiting the many botanical gardens.  First on the list is the Waddell Barnes Botanical Gardens in Macon, which features 16 themed gardens across 167 acres.
Next is Lockerly Arboretum in Milledgeville, where you can explore a nature trail, a tropical greenhouse, and a camellia garden.
Another garden you should not miss is Callaway Resort & Gardens in Pine Mountain.  They have something to enjoy every season, including their Spring Flower Fest, a butterfly center, and a corn maze in the fall.
5.  Enjoy the water on Lake Tobesofkee
Lake Tobesofkee is located in Bibb County on the outskirts of Macon, and it has something fun for everyone.  Whether you prefer swimming, boating, fishing, sailing, or water sports, this lake is ideal for the day.  If you choose to stay on land, you can bring your whole family (including your four-legged friends) for a walk, a picnic by the water, or even a night of camping.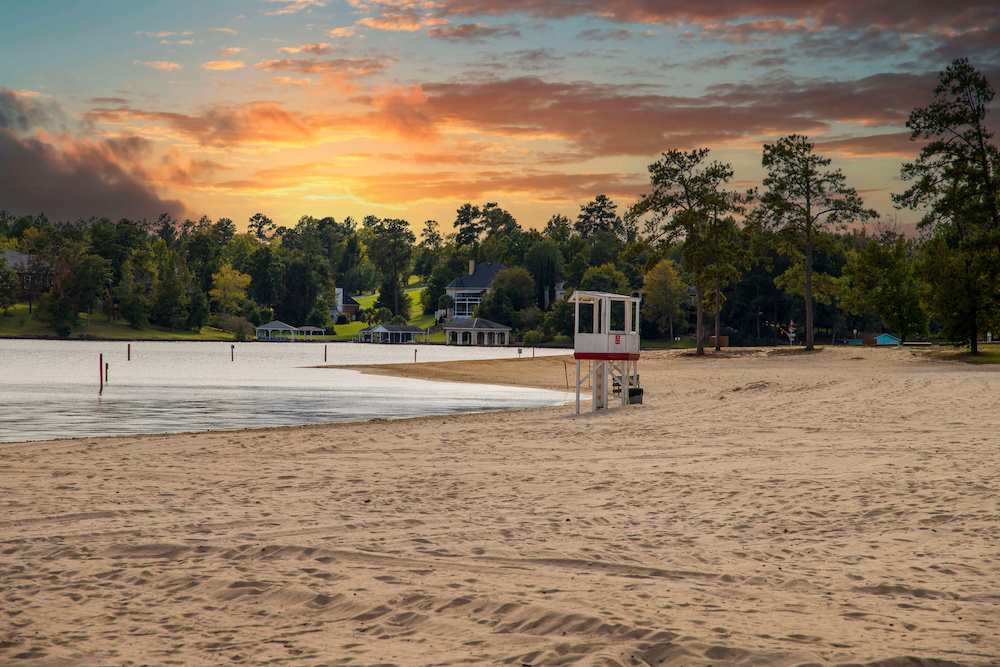 6.  Have a beach day
Lake Tobesofkee's recreation area has three parks: Sandy Beach Park, Claystone Park, and Arrowhead Park.  They are known for their sparkling white sand that rivals the shores on the Atlantic coast.  The parks also have lighted pickleball courts, playgrounds, and boat ramps.
7.  Hike in F.D. Roosevelt State Park
F.D. Roosevelt State Park in Pine Mountain is Georgia's largest state park, known for its excellent trails spanning over 40 miles.  Hikers and bikers will find themselves amid tall hardwoods, rolling mountains, and various water features.  One park area, Dowdell's Knob, is where President Franklin Roosevelt often spent his time picnicking and enjoying nature.
8.  Play sports at Freedom Park
Macon is home to Freedom Park, a recreation center with several well-maintained sports facilities, and Liberty Lake.  You can challenge your family or friends to some fun competition on the baseball and softball fields, tennis courts, and basketball courts.  The park has a game room, swimming pool, gym, and trails.
9.  Chase Waterfalls
Nothing is quite as rewarding as finding a cascading waterfall at the end of a long, winding trail.  High Falls State Park is located on the Towaliga River in Jackson, and it offers hiking trails along the river that lead to the beautiful falls.  It is also known for its excellent bass fishing.  After a day of adventure, you can stay overnight in one of their glamorous yurts.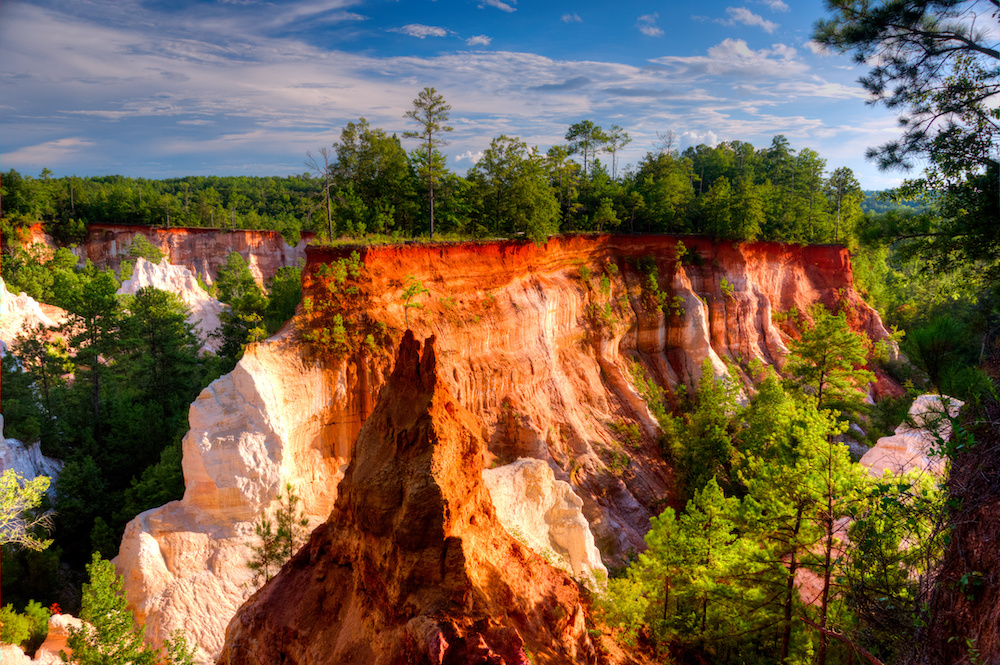 10.  Hike in a canyon
Last on our list is Providence Canyon State Park in Lumpkin, also known as "Little Grand Canyon." The colorful canyon walls are a sight as you hike along the ridges and into the gullies.  Backpackers enjoy this park because they can stay overnight on parts of the scenic backcountry trail.
More to Explore
If you enjoy learning about fun activities and destinations around Macon and Middle Georgia, check out the other blog posts on our website, www.sheridansolomon.com.  We also post updates about the real estate market, tips for homeowners, and much more!