Halloween is a long-standing holiday that came to America in the 1800s when Irish immigrants brought their Hallows Eve traditions to the States. Today, the celebrations are bigger than ever and often last the entire month of October.
If you love spooky seasons, you probably like to spend your October making costumes, putting up decorations, watching scary movies, and going on haunted adventures. One of our favorite things about Halloween is seeing all the impressive, frightening decorations around town. However, you do not have to have the spookiest house in the neighborhood to enjoy the spirit of the season. Decorating your home for Halloween can be a fun activity for the whole family.
In this post, we will go over 12 fun ways to decorate your house for Halloween!
12 Fun Ways to Decorate for Halloween
1.  Pumpkin displays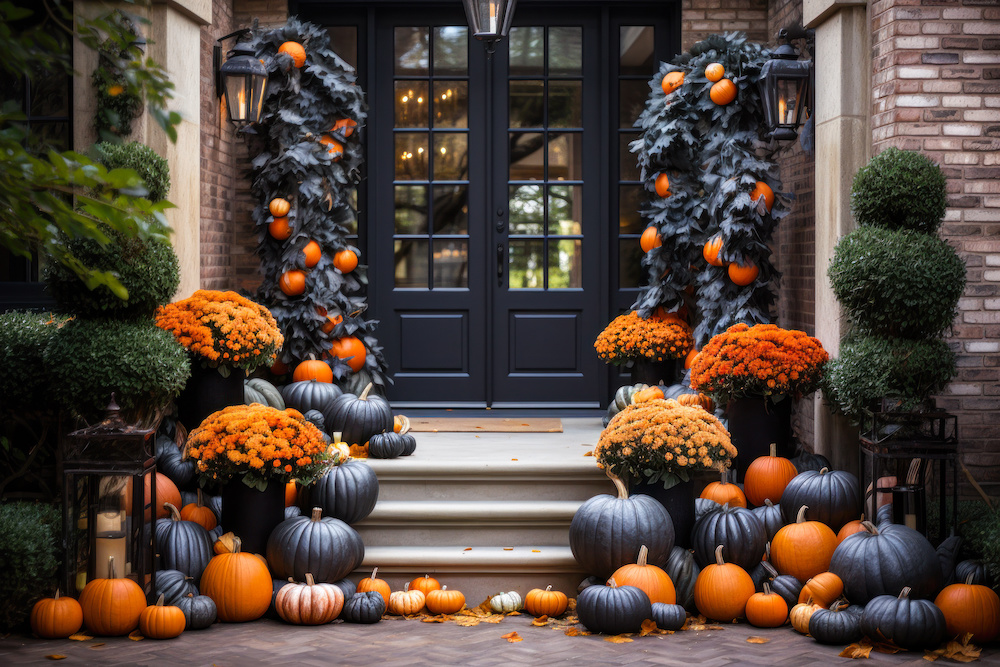 Pumpkins are one of the most popular elements of decor for fall and Halloween, and they can be carved or decorated into any unique design you can think of.
One fun idea is to place several different shapes and sizes of gourds together to form a display, such as a spooky village, or a pair of black cats. You can also put several small pumpkins in a row and carve a letter into each one to write out a phrase.
If you prefer an aesthetic look, try painting your pumpkins to match the colors on your porch or in your home. You can glue flowers or beads onto your pumpkins for some extra pizzazz.
2.  Spooky household items
Swap out some of the household items that you already use on a daily basis for spooky versions. This could include kitchen towels, hand towels, placemats, pillow covers, and even glassware. If you like DIY decor, you can make spider web placemats using this guide!
3.  Hanging cages
Make your front yard frightening by hanging cages on your bird feeder hooks. You can place eerie items inside the cages, such as skeletons, fake birds, spiders, or rats. A DIY option for the cages is to invert laundry baskets on top of each other and hold them together with twist ties. This works best if the baskets are black.
4.  Creepy candy bowl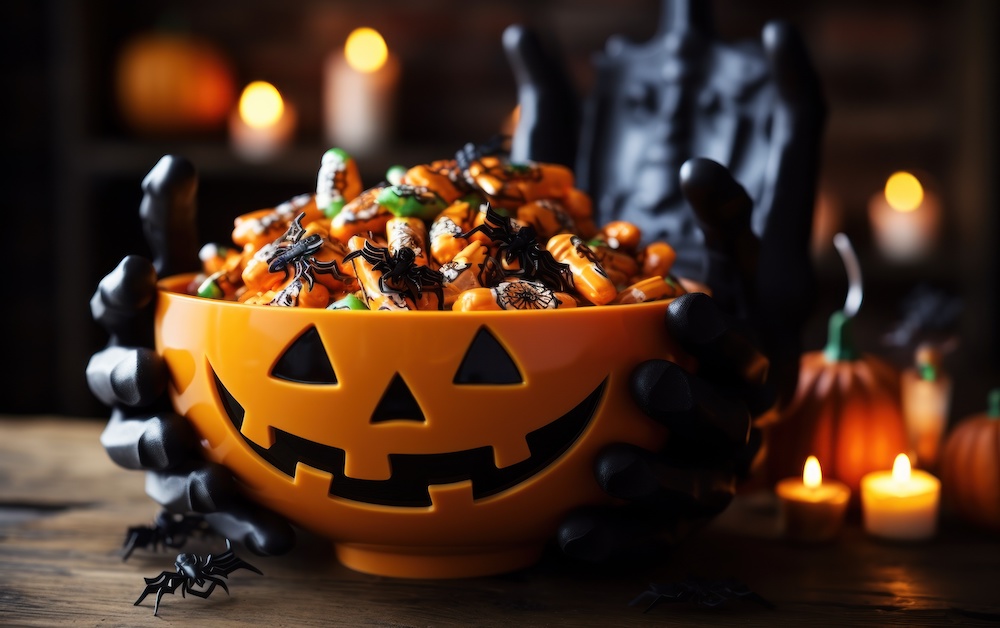 If you love sweets, treat yourself to some Halloween candy to enjoy throughout the month. Get creative and make a creepy bowl to hold your sweets. This could be a skull with an opening in the top, a large pair of zombie hands that are cupped together, or even a jack-o-lantern that has candy spilling out of its mouth.
5.  Fake spiders
Spiders are notoriously terrifying, and you can really capture the Halloween vibe by strategically placing fake spiders throughout your home. Some fun places to put them are around doorways, on stair banisters, across mantels, or hanging from light fixtures. They will look more realistic if you place them in groups that appear to be following each other.
6.  Posing skeletons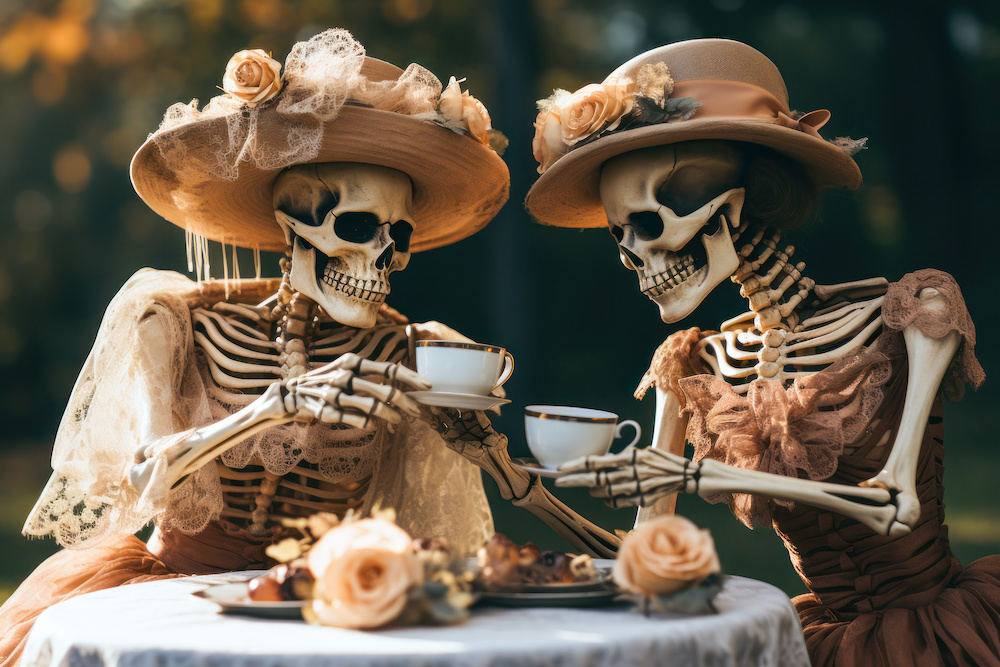 Pull out those skeletons in your closet and put them in fun poses around your house. One idea is to place a skeleton couple in two rocking chairs as if they are enjoying a drink together on the front porch. Get as creative as you want, and use props to set the scene or dress them up in clothes and jewelry.
7.  Floating hats & brooms
Harness your inner witch and put a spell on your decor! You can hang witch hats and brooms from your front porch with fishing line or invisible string to make them appear like they are floating in mid-air.
8.  Eyeballs in a jar
Make your guests look twice when they are washing their hands. Place fake eyeballs in your clear soap dispensers so that they are floating in the liquid. This could also work with other fake body parts, such as fingers or ears. If you prefer not to use your soap, put the body parts in a glass jar filled with water and food coloring.
9.  Branches of crows
Save those large dead tree branches and place them upright in pots on your front porch. Then, glue fake black crows on the limbs to make it look as if they are all perched in a tree. You can also place smaller branches throughout your home to hold just one or two crows.
10. Zombie hands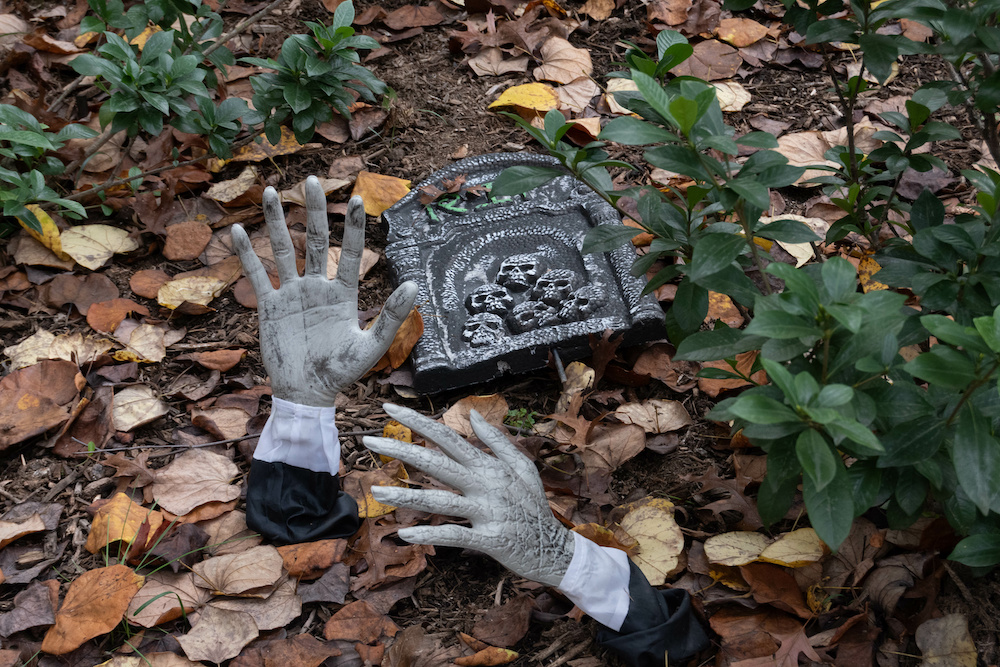 Turn your house plants into makeshift graves by placing zombie hands in the soil, as if they are reaching out of the ground. If you have an outdoor garden, you can do this on a larger scale and make a mini cemetery full of rising zombies.
11.  Crystal ball ornaments
Paint spooky creatures or symbols on your clear Christmas ornaments, such as spiders, bats, ghosts, or gravestones. Then, place them on top of tall candle holders to look like crystal balls.
12.  Spooky Welcome Sign
Lastly, paint your own spooky welcome sign using plywood or thick cardboard. You can come up with your own spooky message such as "Witches Only" or look online for inspiration. Once your paint is dry, jazz it up by adding glitter, beads, or creepy cardboard cutouts.
More Decorating Ideas
These 12 Halloween decorating ideas are a great way to bring the family together for fun and creativity. If you enjoy these types of activities year-round, check out our other blogs for more seasonal decorating ideas! We also post updates about the real estate market, tips for buyers and sellers, and much more.