The ongoing worldwide pandemic has brought about a lot of changes to our daily lives, including the way we work. Many companies have allowed their employees to begin working from home several days per week, or maybe even full-time. Those of us who were spending most of our time in an office or cubicle may have recently become more familiar with the walls inside our own homes.
In some cases, remote work may have made you more productive, but if you have limited space and resources in your home, you may be struggling to adapt. Maybe working in the same place that you live is throwing off your work-life balance.
As the world continues to evolve and more businesses offer permanent work-from-home options, the needs of the housing market have begun evolving as well. In this post, we'll provide 4 significant ways that remote work is changing housing needs, and what these changes mean for the future of real estate.
4 Ways Remote Work Changes Your Needs in a Home
Need for dedicated work space
Telecommuters typically utilize the same work equipment and supplies as they would at the office, which can take up quite a lot of room in your house. Therefore, one of the biggest demands for remote work is an extra bedroom or dedicated office in the home. It is also important to have good sound insulation that blocks out distracting noises from family, pets, and neighbors while also keeping work conversations confidential.
These can also help distinguish your work space from your relaxation space. Remote work can be mentally exhausting because you are not switching environments between your work time and "home time." This is why a separate room dedicated to work can help you fully escape your job when you are finished for the day.
Need for green space and sunlight
Another changing need for those who work from home is additional green space. Staring at the same four walls for hours a day can get monotonous quickly, and it is important to take breaks throughout the work day in order to stay productive. Going outside can provide fresh air, exercise, and an opportunity for pets to play. This realization has led to an increased desire for large backyards or nearby parks and trails.
Similar to fresh air, sunlight can promote better productivity than cramped, windowless work areas. People who work from home have an advantage over those who work in cubicles, since they can look for homes with plenty of natural light in their office space.
Transition away from urban housing
Since employees who work from home can commute to work less often or not at all, they no longer need to live so close to their office. Purchasing or renting a home in the middle of a large city can be expensive, and many telecommuters are choosing to move farther away from the urban business hubs. This is creating an increasing demand for housing in suburban and rural areas.
Further, people who have previously been living near their office in an expensive city may not have been able to afford home ownership at all. The flexibility of remote work provides an opportunity for those individuals to purchase property in more affordable areas, which is why the real estate market is unlikely to slow down anytime soon.
Pursuing dream destinations
As remote workers gain freedom in their daily lives and their housing options, many individuals are moving across the country to live in the places they have always dreamed of. Mass amounts of people are moving out of the north to get away from snow and high property taxes. Some are buying getaways on the coast or in private resorts. Others are going off the grid in small town USA. As more people gain the ability to migrate away from the cities, urban populations will spread out and housing demands will change geographically.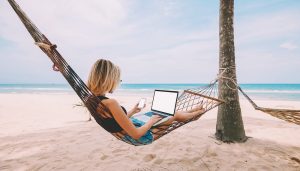 The Future of Real Estate
To summarize, remote work is allowing people to keep their jobs without living near their physical office building. This means that the home search is becoming less about proximity to business centers, and more about the attributes and amenities that homes and neighborhoods offer.
Buyer demand is shifting toward larger homes with more space, more privacy, and bigger yards. Suburban and rural areas are receiving an influx of new residents that are moving out of large cities and trading up their increasing rent for a mortgage. However, the large amount of new buyers in the housing market is also driving up housing costs.
If you have been given the opportunity to work from home, you may be looking to change your living situation to meet your new needs and desires. Give us a call at Sheridan Solomon & Associates to connect with an agent, explore homes on the market, or learn more about changing real estate trends.