The end of the year is a busy time filled with holiday events, family gatherings, and gift-giving. Even in a busy real estate market like we have today, home sales often slow down during the holidays due to time and budget constraints. So, how do you make your home irresistible to the buyers that are still actively looking?
Stylish decorations and tasteful staging may help your home sell quicker, but certain decorating mistakes may dispel buyers. As you get your home ready for showings, keep these 8 important tips in mind to make sure your home stands out in the market this holiday season.
8 Holiday Decorating Tips
Clean before you decorate
One of the most important things to do when selling your home is to clean it. If there is evidence of grime, dust, dirty dishes, or piles of laundry throughout the home, buyers will have a hard time seeing past it. You should also remove any clutter to ensure that your decorations do not just look like extra junk in an overcrowded room.
Holidays can be very personal, marked by religious symbols and family traditions. However, buyers may find it more difficult to picture themselves in your home if your decorations are exclusive to your tastes. To ensure that your home is attractive to any type of buyer, keep your family photos, heirlooms, unique collections, and religious decor packed away.
 Accentuate your home's best features
Decorating for the holidays is a perfect way to show off the best features in your home. For example, if you have a beautiful fireplace, a large archway, or a cathedral ceiling, use subtle decor to draw buyers' eyes to those features. Likewise, don't cover up the impressive attributes in your home with decor. Leave all of your windows visible so that natural light can pour in.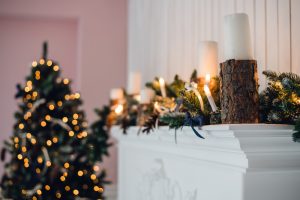 Pick appropriate sized-decorations
Be careful to pick decorations that are sized appropriately for your home. If you have a small room, don't make the space look even smaller with an oversized tree. If you have a room with very high ceilings, you may want to put up a taller tree to emphasize the height of the room. Try not to cover up too much floor space in any room, since open floors can make the room feel larger.
Color coordination is one trick that can make your home look magazine-worthy. Make sure your decorations are not clashing with the colors of your walls or furniture. Pick one bold color to accent each room, then use complementary shades on the color wheel to give the room a cohesive look. Avoid having too many patterns in one space, which can distract and overwhelm buyers. Also, consider the effect your color choices have on buyers' moods. Warm colors create a feeling of energy, power, and passion, while cool shades mean relaxation, peace, and rejuvenation.
 Level up your curb appeal
Curb appeal is one of the most important factors when selling your home since buyers get their very first impression before they walk in the door. Exterior holiday decorations such as lights and garland can be a great way to improve your curb appeal and make your home look inviting. Avoid over-the-top yard displays such as light-up animals or inflatable characters. If you hang a wreath on the front door, make sure it is not so large that buyers may bump into it on their way in.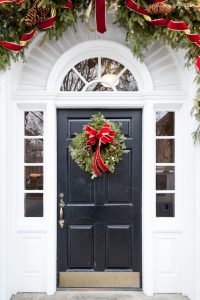 Avoid too many sounds and smells
Some sellers light scented candles or use wall plugs to make their home smell like freshly baked cookies or cinnamon. However, these types of smells can quickly become overpowering, and buyers may be deterred from your home if they don't like the scent you chose. It is always better to choose a fresh and clean scent, or keep your holiday scents as subtle as possible. Buyers may also be overwhelmed by decorations that talk or play music out loud while they are touring your home.
Lastly, remember to make all your decorations simple and safe. If you aren't good at color coordination, stick with metallics like gold, silver and copper. Choose simple white string lights rather than colorful or flashing ones. You can never go wrong with classic ribbons and garland. Most importantly, avoid creating safety hazards by keeping wires out of walkways, checking electrical devices for defects, and only using one extension cord per outlet. Do not leave any valuable presents under your tree that are at risk of being stolen.
Next Steps
If you are ready to list your home, sort through your decorations ahead of time so that you know which elements you are going to use and which ones you are going to keep in storage. It is a good idea to have professional pictures taken of your home before you put up holiday decor. Also, be sure that you don't leave your decor up after New Year's Day. Best of luck as you sell your home, and remember to follow the advice of your real estate agent throughout the entire process.
If you have questions or would like to connect with an agent, give us a call at Sheridan Solomon & Associates today. We would love to help you get your home sold!