As the days get longer and hotter, you are probably excited to soak up the sunshine and enjoy the fleeting summer season.  When we envision summer, we think of the beach, ice cream, road trips, and festivals, to name a few.  Whatever summer means, you may feel inspired to incorporate elements of the season into your home.
Homeowners enjoy the freedom of decorating their space however they like, and it brings many people joy to change up their decor throughout the year.  If that sounds like you, you will enjoy the ideas we gathered to turn your home into a summer retreat!
9 Home Decor Ideas for Summer
1.  Bright & airy
When you imagine a summer day, you probably think of sunny, blue skies and a warm breeze.  If you want to capture this bright, airy atmosphere indoors, let in plenty of light through your windows.
Switch out your light fixtures and bulbs to brighten up rooms that do not receive a lot of sun.  You can also use mirrors to reflect more light around the room.
Additionally, avoid having too many dark colors in your home.  Instead, embrace shades of white, sandy beige, and light wooden tones.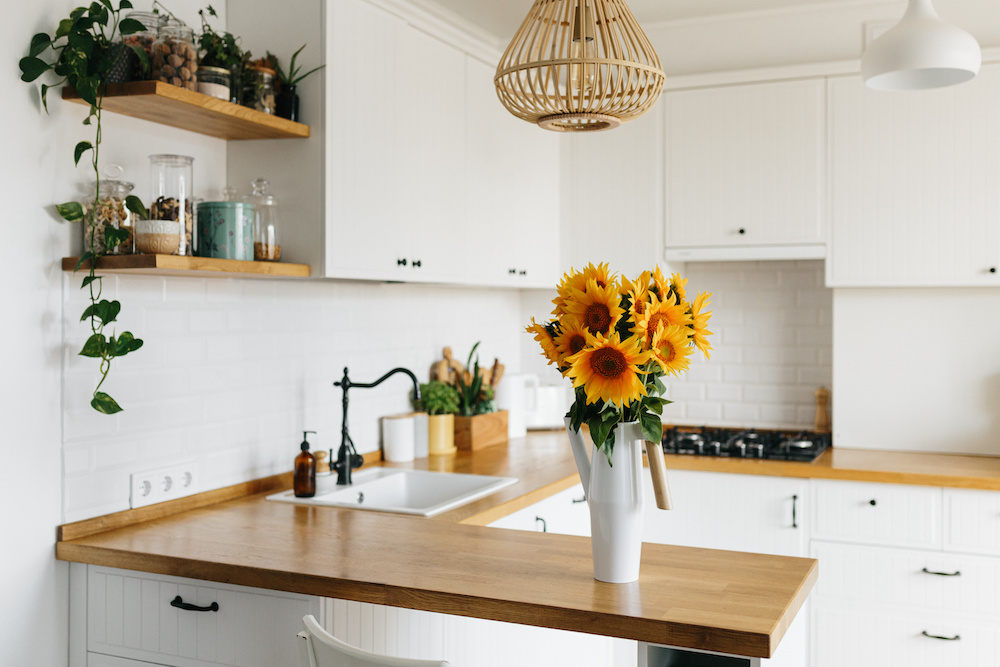 2.  Colorful accents
If light tones make up the base of your color scheme, you can use bold colors to create accents and contrast.  Think about the color palettes that remind you of summer: blues and greens, pastels, bright citrus colors, etc.
There are several easy and fun places to add accents.  Around the kitchen, it might be your dish towels, glassware, and placemats.  You can add colorful throw pillows, vases, and coasters in the living room and bedrooms.
3.  Lightweight textiles
When summer temperatures arrive, replacing those heavy winter layers with lighter textures is time.  For example, throw blankets, curtains, bedspreads, and sheets should be switched to cotton or linen.  These will keep you more relaxed and shift the atmosphere from "warm and cozy" to "fresh and crisp."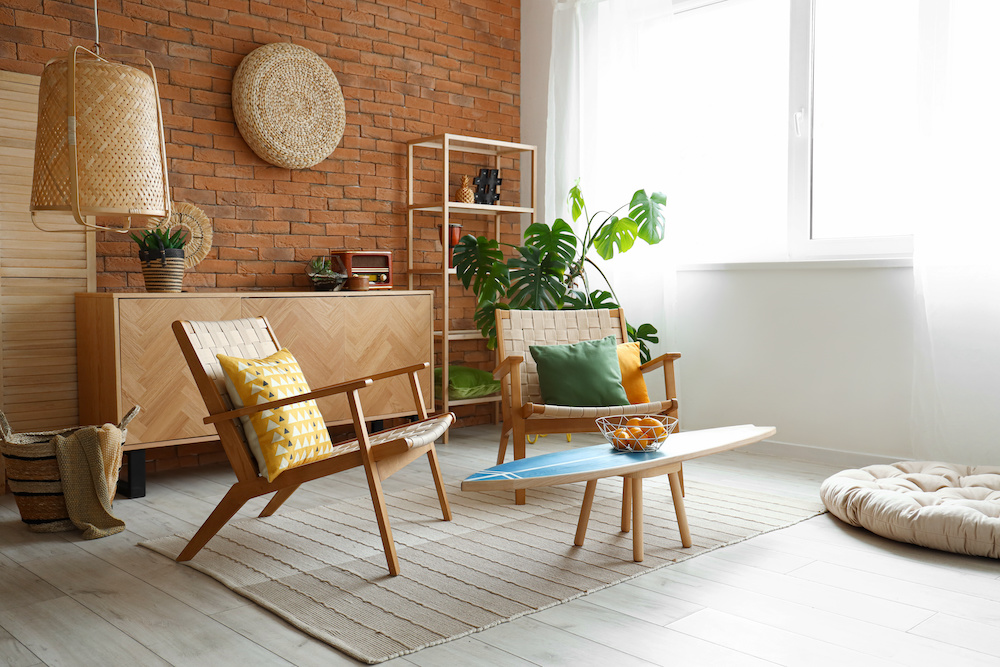 4.  Natural materials
Incorporating natural materials into your interior design can help create a coastal or tropical style that embodies summer.  Some examples are woven rugs, rattan furniture, bamboo shades, and hanging baskets.
5.  Flora, flora, flora
One key feature of the summer season is the abundance of plant life and greenery.  You can bring this into your home by adding flora to your decor.  This might include potted plants, trees, hanging plants, and vines.  You can use flower arrangements as focal points on your countertops, dining, and coffee tables.  Also, try putting a botanical wreath on your front door.
6.  Summer artwork
Artwork is a powerful way to express yourself and your unique taste.  You can change it out as often as possible, which is a versatile way to make a statement.  Find artwork that reminds you of your favorite summer activities, like surfing, traveling, or biking.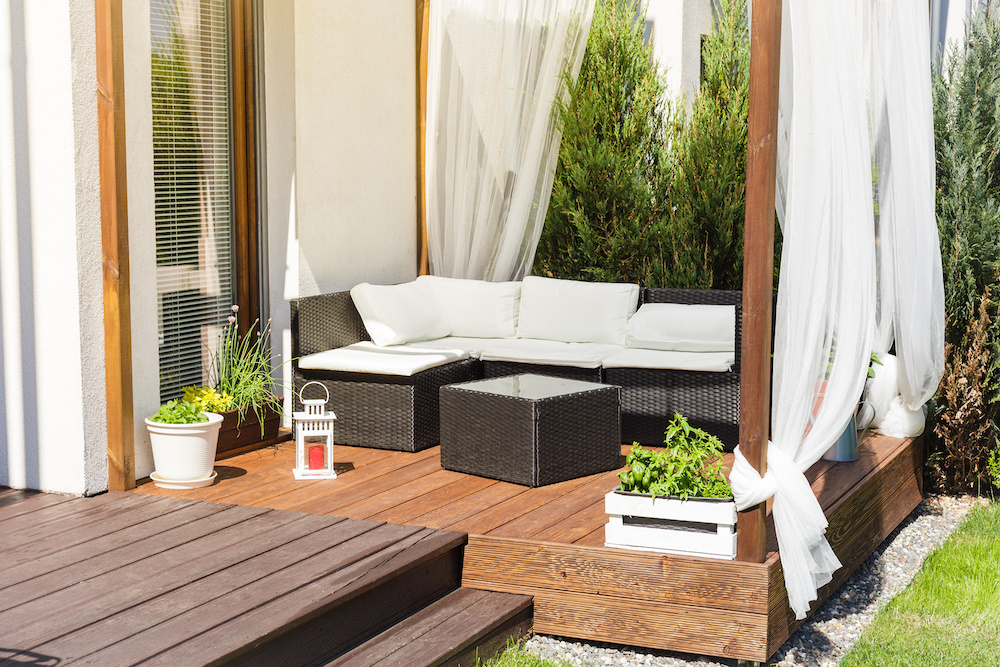 7.  Shady areas
If you love spending time outdoors in the summer but hate the midday heat, make some shade.  Put up a nice canopy or awning in your backyard and hang some flowy curtains to shield from the sun.  Then, add a hammock or a swing to create the perfect nook for reading and napping.
Add some lounge chairs and large umbrellas around the deck if you have a pool.  This will allow you to relax by the pool without getting burned.
8.  Outdoor entertainment
Summer is all about having fun and enjoying time with friends and family.  Getting your outdoor space ready for entertainment will quickly make your house the go-to hangout spot.
Start by adding an outdoor bar cart so that beverages are easily accessible.  You may also want a lounge area and dining table to enjoy cookouts.  For an extratropical vibe, add a fire pit and tiki torches.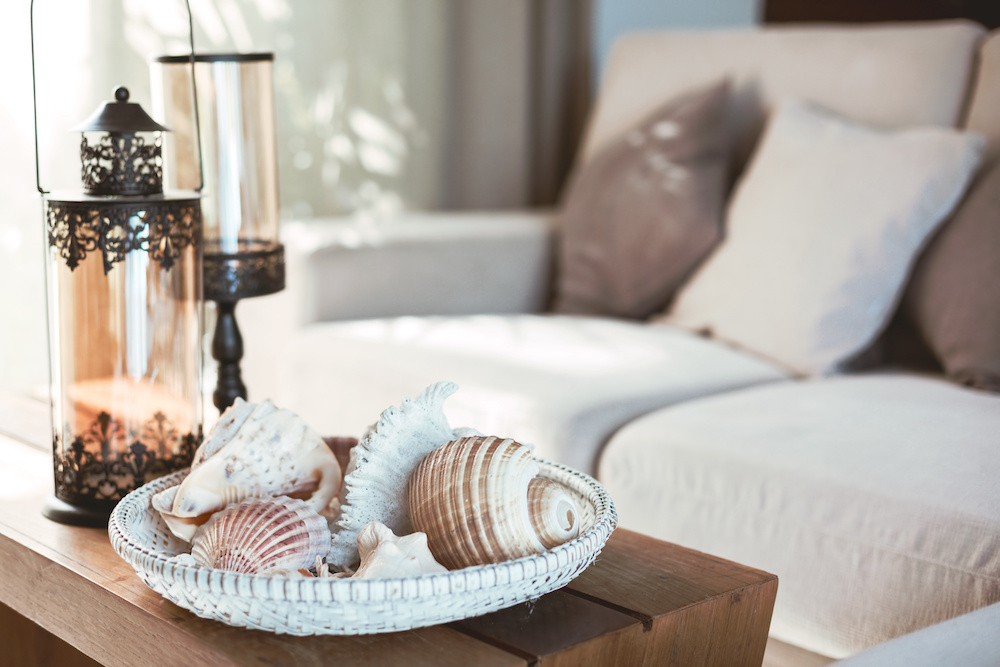 9.  Beach elements
Nothing reminds us of summer quite like the beach!  Bring beachy elements into your home's design to make it feel like a retreat.  You might find inspiration from seashells, palm trees, marine animals, sailboats, and more.
Summary
Regarding home decor, there are many ways to capture the essence of summer.  Whether that be a bright and airy atmosphere, colorful accents, plants, artwork, or beach souvenirs, you can find design inspiration from your surroundings and past experiences.
Remember that decor is a way to express your style, and there is no right or wrong.  Here at Sheridan Solomon and Associates, we love the creative freedom that homeownership brings, which is why we are passionate about helping buyers and sellers accomplish their real estate goals.  If you are ready to talk to an agent about your goals, call us at (478) 746-2000.
If you want to read more about the real estate market, tips for homeownership, and local happenings in Middle Georgia, visit the blog page on our website, www.sheridansolomon.com.