How to Make the Most of Your Outdoor Space in The Winter
A growing number of homeowners today are expanding their lounge and entertainment space to the outdoors. Days spent by the pool followed by evenings under the stars are hard to beat, especially during the warm months. However, outdoor retreats typically go unused in the winter. After all, short days, overcast skies, and cold temperatures are not the perfect conditions for spending time outside.
This year, it's time to break out of the winter blues. With a few clever solutions, you can create a cozy outdoor haven that is inviting and enjoyable, even in the cold months. In this post, we will go over 4 tips and ideas for making the most of your outdoor space during the winter.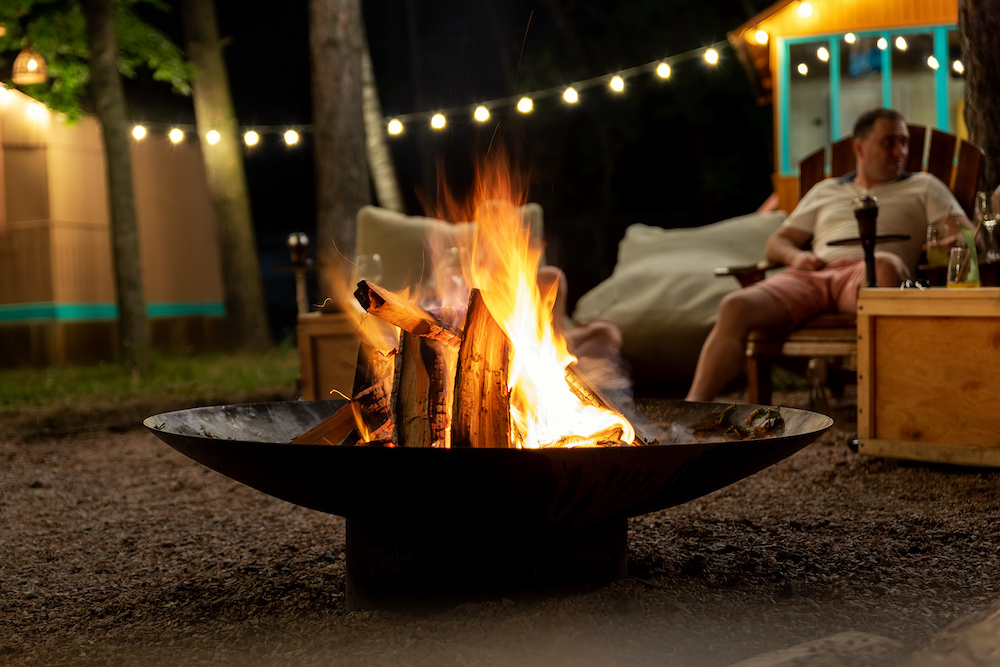 1.  Create a heat source
The first step to enjoy time outdoors during the winter is to warm up the space. If you do not have a big, beautiful outdoor fireplace, there are a few easier and cheaper options to generate heat. One idea is to add a fire pit in the center of your seating area. Not only will this combat the cold, it will create a focal point with a warm and inviting ambience. Plus, it is the perfect way to make delicious s'mores.
As an alternative, you can buy patio heaters and strategically place them around your entertainment space for the most warmth. There are several modern and sleek heaters available today, which can add a stylish design element to your patio. This option is also safer and easier to maintain than a fire pit.
2.  Block out wind
If you have ever felt a gust of cold wind on a cold day, you know that windchill is extremely unpleasant. Even if you have a heat source in your backyard, a windy afternoon can ruin the atmosphere. Therefore, it is important to block, or at least minimize, the wind in your outdoor space. The easiest option would be to put up a wind blocker or windscreen that is designed for this purpose.
However, if you want to be a little more creative, you might consider artificial hedges, roller shades, reed fencing, or a standing room divider. It also helps to have an overhead awning to keep your heat contained and keep out leaves or debris. These solutions can also serve as the backdrop for a projector screen if you plan to have an outdoor movie night.
3.  Brighten it up
Winter days are known for being gloomy with a shortage of daylight. However, adding plenty of light to your outdoor space will allow you to stay outside long after the sun goes down. It is also an excellent way to brighten the atmosphere and make it feel welcoming.
One popular idea for outdoor lighting is bulb string lights, which can be hung from an awning or on a wall. Another great option is to add small path lights that illuminate the walkways. If you have any design features or focal points that you would like to highlight, clever placement of spotlights can enhance these elements.
If you want to follow a design theme, try tiki torches for a tropical vibe, or use lanterns to create rustic charm. For an extra warm touch, hang a pendant light above the dining table or in the center of your space.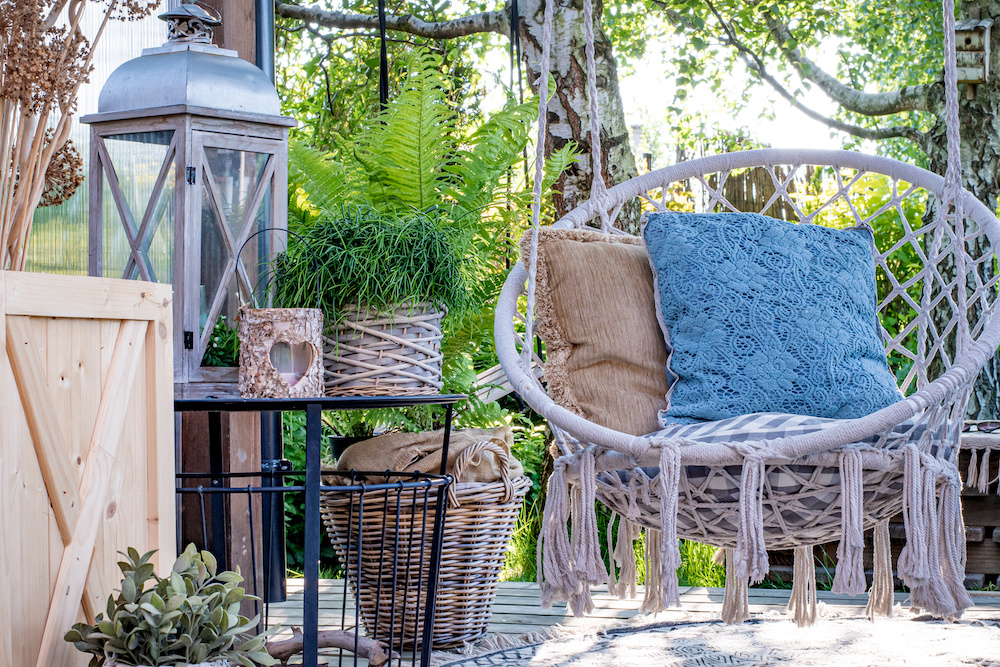 4.   Add cozy touches
When you think of cozy, what comes to mind? Maybe it is a movie night at home filled with blankets, popcorn, and hot chocolate. Typically, it is whatever makes you feel happy, comfortable, and warm. So, bring those elements into your outdoor space.
First, place outdoor rugs to cover the cold ground. Provide plenty of pillows and blankets for snuggling, then store them in a waterproof bin when not in use. If you love snacks, consider adding a popcorn machine or a s'mores station. On chilly nights, set up a hot chocolate and cider bar. For ultimate relaxation, add a cocoon chair, a swing sofa, or bean bags.
When you are entertaining guests, you may want to have outdoor games to keep them occupied. If you are serving cocktails, consider a mini fridge to keep your drink ingredients fresh and nearby. Lastly, bring the movies and sports outside with a large TV or projector screen.
 A few more tips
If you plan to enjoy your outdoor space as much as possible, try adding a few more personal touches to truly make it feel like an extension of your living room. Small items such as potted plants, candles, and drink coasters can help transform the space into your own little paradise. With a little creativity, you can create a relaxing space that you can use all year long.
However, if your backyard or patio isn't big enough for outdoor living and you are looking for a change, reach out to one of our agents here at Sheridan Solomon and Association. Our team of real estate professionals can help you understand the market and decide if a move is right for you. When you are ready to achieve your real estate dreams, call us at (478) 746-2000 or visit our website, www.sheridansolomon.com.